| | |
| --- | --- |
| Username: | eddie1488 |
| First Name: | Edward |
| Last Name: | Fialo |
| Icon: | |
| Member Since: | 03/26/11 07:27 AM |
| Last Login: | 06/07/11 07:05 AM |
| Profile Views: | 4455 |
| State: | New Jersey |
| Flag Profile: | |
Name
Details

Map It

saturdays kill zone
No Reviews
Views: 2224
secert
me and my son hit a hot spot to remember we caught over 25 fish of several different speices sunnys,crappie,pickral,smallmouth,and 2lunker largemouths!as well as some very lare perch

-

---

saturday
No Reviews
Views: 2348
netcong
4/9/2007

went to a hot spot to fish for pickral

-

---

This user has created 2 trips
| | | |
| --- | --- | --- |
| | Edward Fialo's Trip Statistics | |
This user has plotted trips, but none of them contain hotspots to calculate statistics.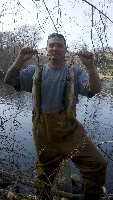 chain pickerel
fun


Avg. Rating: 3

# of Ratings: 1

04/12/11 06:26 PM
User has 1 photo in their collection.
No messages yet. Be one of the first to send this user a message.

Send Edward Fialo a message
Edward Fialo's Current Rank:


Baitfish Rank
With 4 Total Points

How are ranks determined?


Below is where we list statistics for the number of reviews, comments, message board posts, etc. that this user has posted on all the Fish Finder sites. The higher total overall points a user has, the higher the user's ranking.


Total Trips:
2
Total Photos:
1
Total Hotspots:
0
Total Trip Reviews:
0
Total Trip Comments:
0
Total Location Reviews:
0
Total Location Comments:
0
Total Locations Added:
0
Total Locations Edited:
0
Total Message Board Posts:
1
Total Species Comments:
0
Total Species Recipes:
0
Total Species Edited:
0
Total Amenities Added:
0
Total Amenities Edited:
0

---

Total Overall Points:
4

---