| | |
| --- | --- |
| Username: | timsj300 |
| First Name: | tim |
| Last Name: | johnson |
| Icon: | |
| Member Since: | 07/17/10 11:58 PM |
| Last Login: | 01/17/13 12:35 PM |
| Profile Views: | 3294 |
| State: | Massachusetts |
| Flag Profile: | |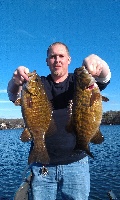 Avg. Rating: 5

# of Ratings: 2

01/13/12 01:05 PM
User has 1 photo in their collection.
From
Message
markdegrenier
02/16/12 09:11 AM

Quote: "YOU GONNA BE OUT THERE THIS YEAR ?"





you no it!! looking foward to it, my son and myself will be called teem bite me!! hope to see you allso!!!!!

---

User has 1 visible message.

Send tim johnson a message
tim johnson's Current Rank:


Baitfish Rank
With 13 Total Points

How are ranks determined?


Below is where we list statistics for the number of reviews, comments, message board posts, etc. that this user has posted on all the Fish Finder sites. The higher total overall points a user has, the higher the user's ranking.


Total Trips:
0
Total Photos:
1
Total Hotspots:
0
Total Trip Reviews:
1
Total Trip Comments:
1
Total Location Reviews:
0
Total Location Comments:
0
Total Locations Added:
0
Total Locations Edited:
0
Total Message Board Posts:
10
Total Species Comments:
0
Total Species Recipes:
0
Total Species Edited:
0
Total Amenities Added:
0
Total Amenities Edited:
0

---

Total Overall Points:
13

---