Username:
timmy86
First Name:
timothy
Last Name:
shays
Icon:
Member Since:
06/29/10 09:08 PM
Last Login:
10/05/10 07:48 PM
Profile Views:
1169
City:
ft drum
State:
New York
Zip:
13603
Country:
USA
Website:
Interests:
About Me:
Favorite Fish
to Catch:
Small mouth
Favorite Type
of Fishing:
Water Type:
Freshwater
Favorite Lures:
Fishing Rods:
Ugly Stick
Fishing Reels:
Fishing Techniques:

Favorite Fishing Spot:
Black River

Flag Profile:


Name
Details

Map It

Father and Son
Avg. Rating: 4
# Reviews: 1
Views: 1202
Black river
7/2/2010

taking my boy out fishing for the first time.

-

---

This user has created 1 trips
| | | |
| --- | --- | --- |
| | timothy shays's Trip Statistics | |
This user has plotted trips, but none of them contain hotspots to calculate statistics.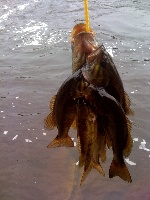 6 small mouth bass
we were about to leave when i took this pic, but we cought another as soon as i took the pic
06/29/10 09:31 PM
User has 1 photo in their collection.
No messages yet. Be one of the first to send this user a message.

Send timothy shays a message
timothy shays's Current Rank:


Baitfish Rank
With 4 Total Points

How are ranks determined?


Below is where we list statistics for the number of reviews, comments, message board posts, etc. that this user has posted on all the Fish Finder sites. The higher total overall points a user has, the higher the user's ranking.


Total Trips:
1
Total Photos:
1
Total Hotspots:
0
Total Trip Reviews:
0
Total Trip Comments:
0
Total Location Reviews:
1
Total Location Comments:
1
Total Locations Added:
0
Total Locations Edited:
0
Total Message Board Posts:
0
Total Species Comments:
0
Total Species Recipes:
0
Total Species Edited:
0
Total Amenities Added:
0
Total Amenities Edited:
0

---

Total Overall Points:
4

---

Find location comments by timmy86
Find location reviews by timmy86