Username:
njfisherguy
First Name:
Tony
Last Name:
W
Icon:
Member Since:
05/27/10 06:42 PM
Last Login:
03/02/14 06:47 PM
Profile Views:
5640
City:
Toms River
State:
New Jersey
Zip:
08757
Country:
USA
Website:
Interests:
Fishing , nascar Go Stewart Haas Racing!!!! Hockey, Go Devils, football, Go new england
About Me:
I'm a tractor trailer mechanic by trade. I'm married, and my wife likes fishing, not as much as me but she does fish. I fish both fresh and salt water. My biggest fish to date in fresh water is a 6# bass and a 12# bluefish in salt water.
Favorite Fish
to Catch:
Bass and crappie
Favorite Type
of Fishing:
spin rod
Water Type:
Saltwater and Freshwater
Favorite Lures:
lures- roadrunners, rooster tails baits- nightcrawlers
Fishing Rods:
A mix really, everything from ultra lights to heavy. All depends on what i'm going for.
Fishing Reels:
All my reels came with my rods, I usally buy combos.
Fishing Techniques:
Most of the time I love going for crappie. I fish either a maribo jig under a bobber, or a nightcrawler under a bobber, or i'll throw a roadrunner out to see if i can get a reaction strike. I'm new to fresh water fishing so i'm still trying to learn as i go.

Favorite Fishing Spot:
lake como

Flag Profile:


Name
Details

Map It

Manasquan inlet
Avg. Rating: 4
# Reviews: 1
Views: 2643
Point Pleasant, NJ
6/9/2013

Fished the manasquan inlet yesterday. Fished from 7:30am to about noon. High tide was just about ending and then switched to an outgoing tide. I didn't get anything fishing with gulp products, the fish seemed to want the real thing! So after switching over to frozen spearing I got four fish. Three short fluke and one sea robin. There were a couple of fish and game officers around during my time there, checking to make sure everyone knew the size regulations. Didn't see to many fish being brought over the wall, but I did see a ton of sea-weed being brought over!!


Map It

---

crappie time
No Reviews
Views: 1206
5/23/2013

Fished ocean county collage pond yesterday 5/23/13. I was there from about 9am to 12pm. I got about eight average sized crappie and a handfull of blue gills. I fished right by the weeds right where you first turn off hooper ave onto collage drive. Really didn't get any big fish, but a nice way to kill a couple of hours.

-

---

ocean county collage
Avg. Rating: 4
# Reviews: 1
Views: 3334
toms river NJ
5/31/2010

Got there about 11am, NOBODY was there. I had the whole pond to myself. I was trying alot of artificials, panfish tubes assorted small panfish soft baits. Also tried a roadrunner lure as well as a berkley pre-rigged worm. Didn't get much of nothing!! Then I tried gulp fish fry ( in Chartruse) and thats when the fun began!!!! I fished them on a 1/16 ounce jighead, about 2ft under a bobber and i was getting bluegills left and right. This pond is usally good for large mouth bass, but they weren't in the playing mood yesterday. It was still fun to catch something!!

-

---

This user has created 3 trips
| | | |
| --- | --- | --- |
| | Tony W's Latest Mapable Trips | |
Below is the latest "mapable" trip this user has plotted.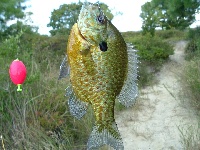 bluegill
lake x bluegill


Avg. Rating: 4

# of Ratings: 1

05/27/10 07:02 PM
User has 1 photo in their collection.