Username:
frogpot
First Name:
PAUL
Last Name:
SEMAN
Icon:
Member Since:
01/19/09 06:07 PM
Last Login:
07/12/09 06:02 PM
Profile Views:
8203
City:
STEVENSVILLE
State:
Maryland
Zip:
21666
Country:
USA
Website:
Interests:
GOLD AND GEM PROSPECTING.
GROWING ORCHIDS.
FLOWER PHOTOTOGRAPHY.
SHELL COLLECTING.
FISHING, MOST ANYWHERE, ANYTIME, SALT OR FRESH WATER AND ANY KIND OF FISH.
SIZE DOESN'T MATTER!
KAYAKING.
RIVER TUBING.
CAMPING(LATE FALL, WINTER AND VERY EARLY SPRING.

About Me:
HAIRY(EXCEPT ON TOP OF THE HEAD)FAT AND FAIRLY UGLY. WAIT UNTIL YOU GET TO BE 75 YEARS OLD AND SEE WHAT YOU LOOK LIKE. MARRIED(52 YEARS).

Favorite Fish
to Catch:
ANYTHING THAT HAPPENS TO BE DUMB ENOUGH TO BITE ON MY LINE.
Favorite Type
of Fishing:
SHORE FISHING WITH SPINNING EQUIPMENT.
Water Type:
Saltwater and Freshwater
Favorite Lures:
WORMS(RAISE MY OWN), CUT BAIT, SQUID AND SHRIMP.
Fishing Rods:
6', 7', 11' UGLY STICKS.
Fishing Reels:
PENN, QUICK, EAGLE CLAW AND SEVERAL NO-NAMES
Fishing Techniques:
MOSTLY SHORE FISHING AND SURF CASTING.

Favorite Fishing Spot:
WATER WITH FISH IN IT.

Flag Profile: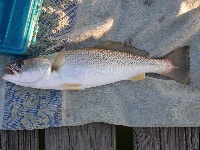 WEAKFISH
I CAUGHT THIS ONE IN THE EVENING OF 1-19-07 AT THE PIER AT KIPTOPEAKE STATE PARK. GREAT PLACE TO FISH.
01/20/09 09:28 PM
User has 1 photo in their collection.
From
Message
yukonjack
02/04/09 06:25 PM




hey frogpot yea things sure do change. but around this area things have actually gotten better, the conn river was so polluted when i was a kid we werent allowed near it. now a fantastic smally and large mouth producer, along with numbers of walleye showing stronger every year. the atlantic salmon wont be back any time soon on the conn river theres a few every year. we had folks from norway over the father was working the salmon restoration project, and when i asked how much of fishery money was wasted on the project he said all of it. he told me the fish ladders we spent millions on exhaust to much energy from the fish and they cant mate after the trip. the fishing on champlain is great, bomoseen when i was small was choked with algae and weeds along with all the camp waste. n ow a great brown trout, along with bass some time wedogood things

---

yukonjack
01/25/09 06:51 PM




well thanks for young shot i don't feel that young. sounds like your down by poke city the most fishing i have down your way was on the ptomac in a tourney. fished down around christfield when i was picking up seafood caught rockies or stripers

---

yukonjack
01/20/09 08:19 PM




how is the fishing your neck of the woods

---

User has 3 visible messages.

Send PAUL SEMAN a message
PAUL SEMAN's Current Rank:


Baitfish Rank
With 2 Total Points

How are ranks determined?


Below is where we list statistics for the number of reviews, comments, message board posts, etc. that this user has posted on all the Fish Finder sites. The higher total overall points a user has, the higher the user's ranking.


Total Trips:
0
Total Photos:
1
Total Hotspots:
0
Total Trip Reviews:
0
Total Trip Comments:
0
Total Location Reviews:
0
Total Location Comments:
0
Total Locations Added:
0
Total Locations Edited:
0
Total Message Board Posts:
0
Total Species Comments:
0
Total Species Recipes:
1
Total Species Edited:
0
Total Amenities Added:
0
Total Amenities Edited:
0

---

Total Overall Points:
2

---


User's Recipes:
1. PLANK STEAK BAKED CARP