Username:
blackrose
First Name:
Rich
Last Name:
Icon:
Member Since:
01/14/09 12:38 PM
Last Login:
12/17/10 09:28 PM
Profile Views:
5888
City:
Plymouth
State:
Massachusetts
Zip:
Country:
USA
Website:
http://www.blackrosefishing.com
Interests:
Saltwater fishing---tuna on spinning gear. Cod on light tackle. Stripers on soft plastics and spinning gear.

Ice fishing.

And....shark fishing as much as possible.
About Me:
My wife convinced me to quit my job as a financial advisor and become a charter fishing captain. 'enough said?
Favorite Fish
to Catch:
tuna, cod, stripers.
Favorite Type
of Fishing:
spinning rod
Water Type:
Saltwater
Favorite Lures:
soft plastics. Jigging
Fishing Rods:
Okuma Guide Select, 7 1/2' MH.
Fishing Reels:
Okuma Salina Baitfeeder 80.
Fishing Techniques:
Surface soft-plastic jerkbaits.

Favorite Fishing Spot:
Stellwagen Bank

Flag Profile:


Name
Details

Map It

Stripers with the Black Rose

Avg. Rating: 5
# Reviews: 5
Views: 5377
Mass. Maritime Academy
6/7/2008

We went fishing this past June and had the best fishing of our lives. In 12 casts, we had 12 keeper stripers lying on the deck of our boat. I've never seen fishing like that in my whole life. The largest fish was 33 pounds and the smallest was about 14 pounds.


Map It

---

This user has created 1 trips
| | | |
| --- | --- | --- |
| | Rich's Latest Mapable Trips | |
Below is the latest "mapable" trip this user has plotted.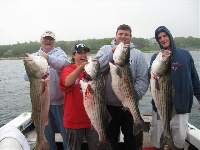 June Striper Trip


Avg. Rating: 5

# of Ratings: 4

01/14/09 12:53 PM
User has 1 photo in their collection.
From
Message
johnnybag-a-bass
01/16/09 06:12 AM




Hey Rich, man that girl in your june trip looks exactly like a girl i used to hang around with.
i make fresh water spinnerbaits, i haven't ventured to the salt side yet, but it's comming. i'll look you up when i'm ready.



---

User has 1 visible message.

Send Rich a message
Rich's Current Rank:


Baitfish Rank
With 3 Total Points

How are ranks determined?


Below is where we list statistics for the number of reviews, comments, message board posts, etc. that this user has posted on all the Fish Finder sites. The higher total overall points a user has, the higher the user's ranking.


Total Trips:
1
Total Photos:
0
Total Hotspots:
1
Total Trip Reviews:
0
Total Trip Comments:
0
Total Location Reviews:
0
Total Location Comments:
0
Total Locations Added:
0
Total Locations Edited:
0
Total Message Board Posts:
1
Total Species Comments:
0
Total Species Recipes:
0
Total Species Edited:
0
Total Amenities Added:
0
Total Amenities Edited:
0

---

Total Overall Points:
3

---