Username:
russ010
First Name:
Russ
Last Name:
Edwards
Icon:
Member Since:
09/06/08 01:31 AM
Last Login:
07/14/09 11:08 PM
Profile Views:
4600
City:
Canton
State:
Georgia
Zip:
30115
Country:
USA
Website:
Interests:
wood working, jon boat modifications, fishing
About Me:
I'm a full time risk management insurance underwriter for AIG. Also a memeber of the Air National Guard, will be 10 years in Dec 08.
Favorite Fish
to Catch:
Largemouth bass
Favorite Type
of Fishing:
finesse
Water Type:
Freshwater
Favorite Lures:
soft plastics
Fishing Rods:
Kistler Helium LTA x 2
Powell Max
GLoomis x 2
Fishing Reels:
Daiwa Viento x 3
Daiwa Alphas Ito 103a
Shimano Curado 200e7 x 2
Fishing Techniques:
Texas Rigged - worms, lizards
shakey head
split shot
stand up jig heads
jigs

Favorite Fishing Spot:
Yahoola, Carters ReReg, Lathem Reservoir, Lake Acworth

Flag Profile: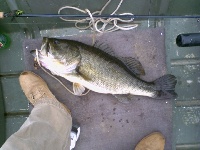 10lb LMB
caught in Oct 07 at 7am... 48 degrees, water temp 52.. cold and raining


Avg. Rating: 5

# of Ratings: 1

09/06/08 01:42 AM
User has 1 photo in their collection.
No messages yet. Be one of the first to send this user a message.

Send Russ Edwards a message
Russ Edwards's Current Rank:


Baitfish Rank
With 2 Total Points

How are ranks determined?


Below is where we list statistics for the number of reviews, comments, message board posts, etc. that this user has posted on all the Fish Finder sites. The higher total overall points a user has, the higher the user's ranking.


Total Trips:
0
Total Photos:
1
Total Hotspots:
0
Total Trip Reviews:
0
Total Trip Comments:
0
Total Location Reviews:
0
Total Location Comments:
0
Total Locations Added:
0
Total Locations Edited:
0
Total Message Board Posts:
0
Total Species Comments:
1
Total Species Recipes:
0
Total Species Edited:
0
Total Amenities Added:
0
Total Amenities Edited:
0

---

Total Overall Points:
2

---