Username:
reelfishn
First Name:
Roger
Last Name:
Braaten
Icon:
Member Since:
08/11/08 08:42 PM
Last Login:
09/28/08 02:40 PM
Profile Views:
6314
City:
Redmond
State:
Washington
Zip:
98052
Country:
USA
Website:
Interests:
Salmon fishing!
About Me:
Favorite Fish
to Catch:
Sockeye
Favorite Type
of Fishing:
Water Type:
Saltwater and Freshwater
Favorite Lures:
ACE High Fly
Fishing Rods:
Fishing Reels:
Fishing Techniques:

Favorite Fishing Spot:

Flag Profile:


August Coho

No Reviews
Views: 6439
East Possesion Bar
8/9/2008

Caught ~8:00am, down 28' on rigger, Green Hot shot flasher with GRN/WHT Ace high Fly tipped with SML herring.


Map It

---

This user has created 9 trips
| | | |
| --- | --- | --- |
| | Roger Braaten's Latest Mapable Trips | |
Below is the latest "mapable" trip this user has plotted.


| | | |
| --- | --- | --- |
| | Roger Braaten's Trip Statistics | |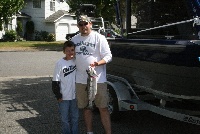 Possesion Bar-East


Avg. Rating: 3.6666666666667

# of Ratings: 3

08/11/08 08:51 PM
User has 1 photo in their collection.
From
Message
blrdevelopment
01/14/09 01:50 PM




Just checking for a blackmouth fishing report. Was out friday 1/2/09 & landed a nice 10 lb'er off Randle Point north of Clinton ferry terminal in 150' depth & downrigger bouncing on the bottom. NE side of Whidbey Isalnd produced one on Saturday 1/3/09 & 1 on Sunday 1/4/09 from Baby Island to Langley with several 14" to 19" (ttoo small to keep), however by time we got towards Langley the silt & debris from flooding started to show up.
Tight Lines!

---

User has 1 visible message.

Send Roger Braaten a message
Roger Braaten's Current Rank:


Baitfish Rank
With 13 Total Points

How are ranks determined?


Below is where we list statistics for the number of reviews, comments, message board posts, etc. that this user has posted on all the Fish Finder sites. The higher total overall points a user has, the higher the user's ranking.


Total Trips:
9
Total Photos:
0
Total Hotspots:
3
Total Trip Reviews:
0
Total Trip Comments:
0
Total Location Reviews:
0
Total Location Comments:
0
Total Locations Added:
0
Total Locations Edited:
0
Total Message Board Posts:
1
Total Species Comments:
0
Total Species Recipes:
0
Total Species Edited:
0
Total Amenities Added:
0
Total Amenities Edited:
0

---

Total Overall Points:
13

---