| | |
| --- | --- |
| Username: | hesonoh |
| First Name: | Heson |
| Last Name: | Oh |
| Icon: | |
| Member Since: | 02/15/17 09:50 PM |
| Last Login: | 06/04/17 07:46 PM |
| Profile Views: | 1042 |
| State: | Massachusetts |
| Flag Profile: | |
Name
Details

Map It

July 23, 2015

Avg. Rating: 5
# Reviews: 1
Views: 1683
Lake Cochichewick
7/23/2015

I had been fishing all day at the larger part of the lake and I wasn't getting a single bite. It was getting dark, so I decided to call it a day. As I was leaving the reservation, I was walking by a small pond that was connected to Stevens Pond by a tunnel. I decided to try it out for ten minutes. After a few casts, I felt a massive bite. The fish fought hard, but I won. I got the largemouth out of the pond and I was surprised by the size... 5.2 lbs. Haven't caught a bigger beast than this one since.


Map It

---

This user has created 1 trips
| | | |
| --- | --- | --- |
| | Heson Oh's Latest Mapable Trips | |
Below is the latest "mapable" trip this user has plotted.


| | | |
| --- | --- | --- |
| | Heson Oh's Trip Statistics | |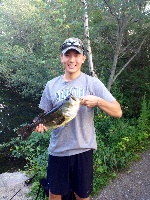 5lbs Largemouth


Avg. Rating: 5

# of Ratings: 2

02/15/17 10:02 PM
User has 1 photo in their collection.
No messages yet. Be one of the first to send this user a message.

Send Heson Oh a message
Heson Oh's Current Rank:


Baitfish Rank
With 3 Total Points

How are ranks determined?


Below is where we list statistics for the number of reviews, comments, message board posts, etc. that this user has posted on all the Fish Finder sites. The higher total overall points a user has, the higher the user's ranking.


Total Trips:
1
Total Photos:
1
Total Hotspots:
1
Total Trip Reviews:
0
Total Trip Comments:
0
Total Location Reviews:
0
Total Location Comments:
0
Total Locations Added:
0
Total Locations Edited:
0
Total Message Board Posts:
0
Total Species Comments:
0
Total Species Recipes:
0
Total Species Edited:
0
Total Amenities Added:
0
Total Amenities Edited:
0

---

Total Overall Points:
3

---