Username:
udo13345
First Name:
Ian
Last Name:
Dietrich
Icon:
Member Since:
07/27/14 01:42 PM
Last Login:
05/23/17 11:57 AM
Profile Views:
3291
City:
Medford
State:
Massachusetts
Zip:
02155
Country:
USA
Website:
Interests:
uhhhh. Fishing. (obviously) Mostly in Spring - Fall, May give ice fishing a shot this year.
About Me:
Im a 25 year old Ex CA, Ex PA, Ex OH fisherman.
Favorite Fish
to Catch:
Largemouth and Smallmouth Bass, Panfish, Carp/Catfish
Favorite Type
of Fishing:
Spin Rod
Water Type:
Freshwater
Favorite Lures:
Senko, Top Water frogs, Assorted live bait
Fishing Rods:
Pflueger ultralight. For freshwater nothing beats ultralight tackle.
Fishing Reels:
Pflueger ultralight 4lb test
Fishing Techniques:
Varies between Texas rigged plastics in more established lakes and assorted plastic Jigs on the ultralight. Live worms drifted with 1/8 oz weights have killed in my experience on the Merrimack. Desperately in need of a kayak.

Favorite Fishing Spot:


Flag Profile:


Name
Details

Map It

Concord River Carp in the Rain

Avg. Rating: 5
# Reviews: 4
Views: 3966
Billerica, Ma
9/13/2014

Good outing on the Concord river in Billerica in the rain this Saturday. Pulled in several Bullhead Catfish, a Bluegill (surprisingly) and a Carp on Dough Balls.

The Bullheads were all 10 - 12 inches in length, nothing to write home about. This was the first carp I've successfully landed, but it was 16-18 in length and probably weighed 5lbs. While targeting different fish I've hooked into two other fish in this area that I would assume were carp that felt much larger then the one caught today.

All in all a good day. Plenty of fish, a bridge to provide cover from the rain, and my first successful Carp Catch.

As a FYI drifted worms under the bridge here provided some nice Perch and various Sunfish on a different trip.


Map It

---

Do you mind Road-noise?
Avg. Rating: 5
# Reviews: 3
Views: 892
93 Overpass over the Merrimack
8/8/2014

Under the 93 bridge over the Merrimack KILLS for live bait fishing. Successfully landed one keeper size largemouth and had at least one additional decently sized bass on the line. I've also caught 12" plus Perch here though on this occasion I didn't land any.

-

---

This user has created 2 trips
| | | |
| --- | --- | --- |
| | Ian Dietrich's Latest Mapable Trips | |
Below is the latest "mapable" trip this user has plotted.


| | | |
| --- | --- | --- |
| | Ian Dietrich's Trip Statistics | |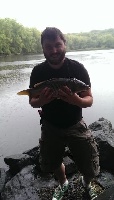 Concord River in the Rain


Avg. Rating: 5

# of Ratings: 2

09/13/14 11:01 PM
User has 1 photo in their collection.
No messages yet. Be one of the first to send this user a message.

Send Ian Dietrich a message
Ian Dietrich's Current Rank:


Baitfish Rank
With 4 Total Points

How are ranks determined?


Below is where we list statistics for the number of reviews, comments, message board posts, etc. that this user has posted on all the Fish Finder sites. The higher total overall points a user has, the higher the user's ranking.


Total Trips:
2
Total Photos:
1
Total Hotspots:
1
Total Trip Reviews:
0
Total Trip Comments:
0
Total Location Reviews:
0
Total Location Comments:
0
Total Locations Added:
0
Total Locations Edited:
0
Total Message Board Posts:
0
Total Species Comments:
0
Total Species Recipes:
0
Total Species Edited:
0
Total Amenities Added:
0
Total Amenities Edited:
0

---

Total Overall Points:
4

---