Username:
martinsfishing
First Name:
bob
Last Name:
martin
Icon:
Member Since:
09/15/13 07:59 PM
Last Login:
02/06/14 02:54 PM
Profile Views:
3871
City:
nashua
State:
New Hampshire
Zip:
Country:
USA
Website:
Interests:
Fishing
About Me:
Live in Nashua, work in telecommunications. Been fishing since I was a kid
Favorite Fish
to Catch:
Snook
Favorite Type
of Fishing:
rod
Water Type:
Favorite Lures:
live bait
Fishing Rods:
Shakespeare
Fishing Reels:
Penn
Fishing Techniques:
Depends on fish

Favorite Fishing Spot:
Black Key Point.

Flag Profile: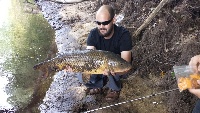 big carp
Big carp caught at mines fall in nashua


Avg. Rating: 5

# of Ratings: 3

09/15/13 08:02 PM
User has 1 photo in their collection.