| | |
| --- | --- |
| Username: | wickedfisherman15 |
| First Name: | Liam |
| Last Name: | Tobin |
| Icon: | |
| Member Since: | 03/31/13 10:53 PM |
| Last Login: | 07/22/13 04:51 PM |
| Profile Views: | 2261 |
| State: | New York |
| Flag Profile: | |
Name
Details

Map It

Salt Pond
Avg. Rating: 5
# Reviews: 1
Views: 1302
Salt Pond, MA
8/14/2010

I went to Salt Pond in Eastham Cape Cod. The "pond" is a cove that leaks into Salt Pond Bay. I used a light freshwater rod with a snapper popper on. I caught a load of snappers with the popper. I just retrived it quickly and got a hit every cast! Great day.


Map It

---

Ponquogue Bridge
Avg. Rating: 4
# Reviews: 1
Views: 1925
Ponquogue Bridge,
7/28/1999

I caught 2 fluke, 2 snapper, and a black sea bass. I was using frozen spearing on a octopus hook with a 3 ounce sinker. I was fishing at the start of the bridge.


Map It

---

Jemima Pond
Avg. Rating: 4
# Reviews: 1
Views: 1653
Jemima Pond, MA
8/17/2012

I was fishing with a live worm on a small hook at Jemima Pond. I hooked a nice largemouth but the fish jumped and pulled the small hook. After realizing my hook was too small I switched to a bigger hook and a berkley gulp power bait worm. I hooked a even bigger bass and landed this one. After the fish the sun was setting so I called it a day.


Map It

---

This user has created 3 trips
| | | |
| --- | --- | --- |
| | Liam Tobin's Latest Mapable Trips | |
Below are the last 3 "mapable" trips this user has plotted.


| | | |
| --- | --- | --- |
| | Liam Tobin's Trip Statistics | |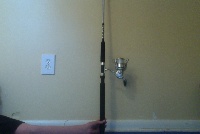 Saltwater Rod
This is my Roddy Lites spinning combo that I use for saltwater.
04/06/13 05:45 PM
User has 1 photo in their collection.
No messages yet. Be one of the first to send this user a message.

Send Liam Tobin a message
Liam Tobin's Current Rank:


Baitfish Rank
With 22 Total Points

How are ranks determined?


Below is where we list statistics for the number of reviews, comments, message board posts, etc. that this user has posted on all the Fish Finder sites. The higher total overall points a user has, the higher the user's ranking.


Total Trips:
3
Total Photos:
1
Total Hotspots:
3
Total Trip Reviews:
0
Total Trip Comments:
1
Total Location Reviews:
1
Total Location Comments:
0
Total Locations Added:
0
Total Locations Edited:
0
Total Message Board Posts:
13
Total Species Comments:
0
Total Species Recipes:
0
Total Species Edited:
0
Total Amenities Added:
0
Total Amenities Edited:
0

---

Total Overall Points:
22

---

Find message board posts by wickedfisherman15