Username:
ashbur13
First Name:
Ashley
Last Name:
Burris
Icon:
Member Since:
08/12/12 02:01 PM
Last Login:
11/06/12 10:46 AM
Profile Views:
7262
City:
Toms River
State:
New Jersey
Zip:
08757
Country:
USA
Website:
Interests:
Fishing camping hiking biking
About Me:
Im 26 yrs young. I have a son who is currently 3 yrs old. we love the outdoors and love fishing ;)
Favorite Fish
to Catch:
ANY! as long as they are big!
Favorite Type
of Fishing:
im a rookie so I dont know yet
Water Type:
Freshwater
Favorite Lures:
nightcrawlers work good for me
Fishing Rods:
not sure what kind i have.
Fishing Reels:
still learning
Fishing Techniques:
I always fish at my fave spot and it has a lot of lilly pads so i like to fish on the edge of them. there always seems to be a fish there :)

Favorite Fishing Spot:
bunker hill bogs jackson nj

Flag Profile: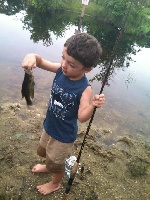 it's in his blood :)


Avg. Rating: 4.75

# of Ratings: 4

08/12/12 02:09 PM
User has 1 photo in their collection.
From
Message
jimbuoy
12/27/13 09:40 AM




Merry Christmas & Happy New Year to all my fishing pals. May 2014 bring you health, wealth, happiness and of course fish and lots of them!

---

User has 1 visible message.

Send Ashley Burris a message
Ashley Burris's Current Rank:


Baitfish Rank
With 1 Total Points

How are ranks determined?


Below is where we list statistics for the number of reviews, comments, message board posts, etc. that this user has posted on all the Fish Finder sites. The higher total overall points a user has, the higher the user's ranking.


Total Trips:
0
Total Photos:
1
Total Hotspots:
0
Total Trip Reviews:
0
Total Trip Comments:
0
Total Location Reviews:
0
Total Location Comments:
0
Total Locations Added:
0
Total Locations Edited:
0
Total Message Board Posts:
0
Total Species Comments:
0
Total Species Recipes:
0
Total Species Edited:
0
Total Amenities Added:
0
Total Amenities Edited:
0

---

Total Overall Points:
1

---