| | |
| --- | --- |
| Username: | johnyak |
| First Name: | John |
| Last Name: | N. |
| Icon: | |
| Member Since: | 05/14/12 11:16 PM |
| Last Login: | 05/18/15 09:18 PM |
| Profile Views: | 5532 |
| State: | Massachusetts |
| Flag Profile: | |
Charles River Bridges
Avg. Rating: 5
# Reviews: 4
Views: 1752
Charles River, Dedham
7/27/2013

I fished the Dedham stretch of the Charles today on foot, fished a couple of hours between 2 and 4 pm hitting 2 bridges. I caught 4 bass largest was 1.90lbs. The 1.90 fish hit a Wacky Rigged Senko drifting towards the bride in the current. The bass headed for a fallen tree in the 1st tunnel and was tangled for a couple of seconds, thought he was going to break me off. I opened the bail on my baitcast reel and the bass headed for the current and open water. I tightened the drag and did not play around any more. I thought the fish was a lot larger the way he fought. The river largemouth fight like a smallmouth.
The misquitoes were vicious and I did not bring any spray. Luckely I had cigars with me and I had one lit the entire 2 hours.
No big fish but I had a fun trip...

-

---

This user has created 2 trips
| | | |
| --- | --- | --- |
| | John N.'s Trip Statistics | |
This user has plotted trips, but none of them contain hotspots to calculate statistics.

Weighing personal best
7.42 LBS.
05/16/15 03:17 PM

Personal Best
7.42 Lbs.


Avg. Rating: 5

# of Ratings: 5

05/16/15 11:18 AM

User has 2 photos in their collection.
No messages yet. Be one of the first to send this user a message.

Send John N. a message
John N.'s Current Rank: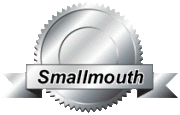 Smallmouth Rank
With 280 Total Points


Previous Ranks Achieved:
How are ranks determined?


Below is where we list statistics for the number of reviews, comments, message board posts, etc. that this user has posted on all the Fish Finder sites. The higher total overall points a user has, the higher the user's ranking.


Total Trips:
2
Total Photos:
2
Total Hotspots:
0
Total Trip Reviews:
6
Total Trip Comments:
46
Total Location Reviews:
0
Total Location Comments:
0
Total Locations Added:
0
Total Locations Edited:
0
Total Message Board Posts:
221
Total Species Comments:
2
Total Species Recipes:
0
Total Species Edited:
1
Total Amenities Added:
0
Total Amenities Edited:
0

---

Total Overall Points:
280

---