Username:
pirougejoe
First Name:
Rick
Last Name:
Icon:
Member Since:
05/10/12 07:55 PM
Last Login:
09/05/16 09:42 PM
Profile Views:
6045
City:
Auburn
State:
Massachusetts
Zip:
Country:
USA
Website:
Interests:
Many.. trap and sporting clays shooting, golf, fishing, fly fishing, chess, golf, scuba, pistols, M1-A, M-4, Science, History, Numismatics.
About Me:
just a regular guy
Favorite Fish
to Catch:
LM Bass and Strippers
Favorite Type
of Fishing:
Spinning Rod
Water Type:
Freshwater
Favorite Lures:
Those from a long time ago and some styff these Northern Bass have never seen...
Fishing Rods:
St. Criox Legend Elite 1x
St. Croix Trimph (2x)
Fishing Reels:
Garcia Mitchell 300's 3x of them ( yes they are antique) wish they still made this style!
Shimano FJ 2500 (the white one)
Shimano Sustain SA 4000
Fishing Techniques:
Bayou Style with Pirouge..
spinner baits from down south, bayou jigs, weedless worms.

Favorite Fishing Spot:
Dark Brook, Stump Pond, Eddy's Pond

Flag Profile:


Name
Details

Map It

Eddies Pond.. Auburn MA
Avg. Rating: 5
# Reviews: 6
Views: 1280
Auburn, MA Eddie Pond
9/8/2012

Small pond in Auburn off of 290 and Rt 20. Access through the South St Boat Ramp.
Lots of Pads in the Summer and heavy population of Pickerl..caugat a 5lb 14oz Larry just off the pads near the 3 small islands in the ponds center this past ealry fall.

-

---

Stump Pond Kayak Tourney
Avg. Rating: 4
# Reviews: 2
Views: 2151
A-1 Stump Pond
8/18/2012

Kayak's or Paddle type Boats only.


Map It

---

This user has created 2 trips
| | | |
| --- | --- | --- |
| | Rick's Latest Mapable Trips | |
Below is the latest "mapable" trip this user has plotted.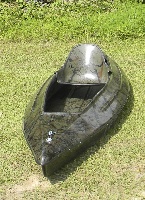 My Bass Boat
Pirouge Style


Avg. Rating: 5

# of Ratings: 2

05/16/12 08:10 PM
User has 1 photo in their collection.
No messages yet. Be one of the first to send this user a message.

Send Rick a message
Rick's Current Rank:


Panfish Rank
With 178 Total Points


Previous Ranks Achieved:
How are ranks determined?


Below is where we list statistics for the number of reviews, comments, message board posts, etc. that this user has posted on all the Fish Finder sites. The higher total overall points a user has, the higher the user's ranking.


Total Trips:
2
Total Photos:
1
Total Hotspots:
1
Total Trip Reviews:
1
Total Trip Comments:
2
Total Location Reviews:
0
Total Location Comments:
1
Total Locations Added:
0
Total Locations Edited:
0
Total Message Board Posts:
170
Total Species Comments:
0
Total Species Recipes:
0
Total Species Edited:
0
Total Amenities Added:
0
Total Amenities Edited:
0

---

Total Overall Points:
178

---