Username:
pondhunter5359
First Name:
guy
Last Name:
jones
Icon:
Member Since:
04/25/12 07:12 AM
Last Login:
08/11/15 10:14 AM
Profile Views:
1436
City:
brockton
State:
Massachusetts
Zip:
02302
Country:
USA
Website:
Interests:
fishing day and night BRUINS CELTICS PATS SOX AND YES THE REVOLUTION, I REALLY DO LOVE SOCCER
About Me:
Favorite Fish
to Catch:
LG MOUTH SMALL MOUTH PICKEREL
Favorite Type
of Fishing:
SPIN
Water Type:
Saltwater and Freshwater
Favorite Lures:
IN LINE SPINNERS # 4 AND5 MEPPS BUCKTAILS,SPINNERS,senkos WACKY WORM CRANKS AND MY NEW FAVE THE ZARA SPOOK
Fishing Rods:
LOOMIS TWO PIECE AND ONE , CARROT STICK, ST CROIX MOJO ANYTHING ULTRALITE
Fishing Reels:
SHIMANOS , PENNS QUANTUM DAIWAS,OKUNAS
Fishing Techniques:
TOP WATER , WACKY WORMS FREE OR WITH BOBBERS TUBBING ,FROGS ETC spinners stickbaits cranks senkos with 5/o offset gamakatzo hooks

Favorite Fishing Spot:
MYLES STANDISH ANY POND IN CARVER MA, PLYMOUTH (ALL PONDS)

Flag Profile:


Name
Details

Map It

plymouth ma stormy
Avg. Rating: 5
# Reviews: 5
Views: 714
SECRET POND IN PLYMOUTH ( I'VE BEEN SWORN)
8/8/2013

took a ride to plymouth with mikeyc in hunt for smalls larges and needles mike caught a bunch of bass using mostly if not exclusively--- senkos. i boated 2 HUGE needles and a nice small.(2 1/2 lbs.) also boated a large . i AM NOW HOOKED ON 4 INCH SENKOS

-

---

robbins pond rain soaker
Avg. Rating: 4
# Reviews: 2
Views: 1180
Robbins Pond East Bridgewater /Halifax Ma.
7/1/2012

me and my homie ,dick c. went to robbins on a calm but soon not to be sunday morning . caughjt a few nice bass and a boat load of white perch and then i caught a beauty of a pickerel. not record size but a nice fish never the less

-

---

charles river by the esplanade / boats
Avg. Rating: 4
# Reviews: 1
Views: 1535
CHARLES RIVER IN THE CITY
5/19/2012

going to the charles saturday . I'm fishing from shore all around the esplanade shore bank . wacky worming-spinning stickin . last time i went there i caught 5 smallies

-

---

This user has created 3 trips
| | | |
| --- | --- | --- |
| | guy jones's Trip Statistics | |
This user has plotted trips, but none of them contain hotspots to calculate statistics.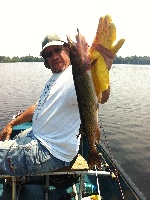 Big Pickeral
On Robbins Pond with my bud Birdman


Avg. Rating: 5

# of Ratings: 3

07/20/12 09:04 AM
User has 1 photo in their collection.
No messages yet. Be one of the first to send this user a message.

Send guy jones a message
guy jones's Current Rank:


Baitfish Rank
With 5 Total Points

How are ranks determined?


Below is where we list statistics for the number of reviews, comments, message board posts, etc. that this user has posted on all the Fish Finder sites. The higher total overall points a user has, the higher the user's ranking.


Total Trips:
3
Total Photos:
1
Total Hotspots:
0
Total Trip Reviews:
0
Total Trip Comments:
1
Total Location Reviews:
0
Total Location Comments:
0
Total Locations Added:
0
Total Locations Edited:
0
Total Message Board Posts:
0
Total Species Comments:
0
Total Species Recipes:
0
Total Species Edited:
0
Total Amenities Added:
0
Total Amenities Edited:
0

---

Total Overall Points:
5

---