Username:
dcates05
First Name:
dustin
Last Name:
Cates
Icon:
Member Since:
08/14/11 02:48 PM
Last Login:
05/03/12 03:02 PM
Profile Views:
8559
City:
Rochester
State:
New Hampshire
Zip:
03867
Country:
USA
Website:
Interests:
bass bass and more bass
About Me:
i thank my younger brother kyle for introducing me to bass fishing in march 2007 back home in knoxville tn!
Favorite Fish
to Catch:
lm,sm spots
Favorite Type
of Fishing:
bass
Water Type:
Favorite Lures:
jigs and traps
Fishing Rods:
arsenal of baitcasters and a few spinning rods. all star, bps, a couple ugly sticks
Fishing Reels:
quantum, abu garcia
Fishing Techniques:
love crankin' and as of lately flippin submerged trees with jigs.

Favorite Fishing Spot:
south pond (stark) & winnepocket

Flag Profile: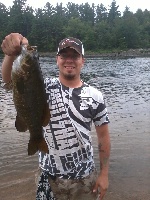 mr 2nd street smallie 3lb 8 oz
great fight against the current on merimack in concord, jumped a solid 1.5 ft out of the water right before i lipped it! whew!


Avg. Rating: 5

# of Ratings: 1

03/24/12 09:58 PM
User has 1 photo in their collection.
No messages yet. Be one of the first to send this user a message.

Send dustin Cates a message
dustin Cates's Current Rank:


Baitfish Rank
With 3 Total Points

How are ranks determined?


Below is where we list statistics for the number of reviews, comments, message board posts, etc. that this user has posted on all the Fish Finder sites. The higher total overall points a user has, the higher the user's ranking.


Total Trips:
0
Total Photos:
1
Total Hotspots:
0
Total Trip Reviews:
0
Total Trip Comments:
0
Total Location Reviews:
0
Total Location Comments:
0
Total Locations Added:
0
Total Locations Edited:
0
Total Message Board Posts:
2
Total Species Comments:
0
Total Species Recipes:
0
Total Species Edited:
0
Total Amenities Added:
0
Total Amenities Edited:
0

---

Total Overall Points:
3

---