| | | |
| --- | --- | --- |
| | Lazy & Hot@ Wachusett Res. Photo Details | |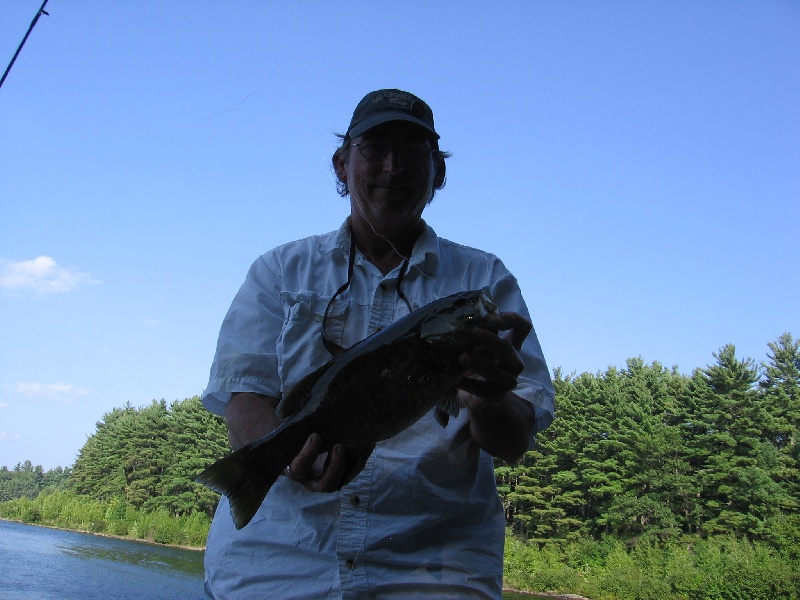 View High Resolution Photo

Added by: sandman62
09/08/15 09:35 PM
Lazy & Hot@ Wachusett Res.
Labor Day weekend was breezy sunny and hot out.We planned on Quabbin but was kinda risky due to the wind conditions forecast. We didn't want a "three hour tour"la la la.My wife and I,ended up at gate 13.scarhill rd.Feeling lazy I left my fly rods in the truck. Equipped with chairs and a 6.5' med/lite spinning rod with 6lb.floro and other picnic stuff we hiked straight down to the middle cove.Slow calm and plenty of patience was the key to targeting smallies.I was down there,at the other cove last Friday morning as well and caught 4 bass, two were dinks,one big dink,haha and a nice 1.999 lb.well it felt like 4lb. largemouth,and got cut off on one,and dropped one.The fish in that big crystal clear water are really strong and acrobatic.Monday started off real dead.I walked back and forth learning the bottom for about 3 hrs..I fished shallows with swim baits,all assorted colors with no hits.Went back to the drop-shot with the notorious "ROBO WORM"size1 hook.There was a ledge that I was kinda pitching over and I picked up a couple dinks that will either totally inhale the bait ,or shred the crap out of it.The wind was really picking up and there were some waves crashing against the boulders to the right so I climbed over there.I wacky rigged a used robo worm and casted into the wind.As soon as the 1/4oz weight hit the bottom my line started stripping.I took my time with it,it was jumping all over.That was the biggest of the day,3lb. using the "old school"scale.I caught another one shortly after 2lb.same way,slow,still,wacky,patent..All fish caught on, robo worm,thinking of buying a t-shirt..Wachusett is huge and hard to fish with out getting skunked.Don't let anyone tell you that the fish aren't biting out there.It holds 5 Mass State fishing records.


Avg. Rating: 5

# of Ratings: 1



Must be logged in to rate or add comments.

User
Comment
sandman62
09/10/15 10:42 AM
Yeah,Me also lov Smallies.Usually I attempt to target them on a fly rod wt.8.It's scarce ,offshore,need allot of casting room.But there's nothing like it on the fly.Planning on hiking back to the Chu "early"Saturday the 12th, morning,New location,same gate 13..Andrews Harbor?I noticed that on the west bank there's some deeper water to try.I don't know if there's any room for flyfishing so I'm just going to take the lazy approach,seems to produce Freakin' Smallies.
anything_for_points
09/09/15 07:25 PM
Nice fish man!
purpleturkey
09/09/15 02:26 PM
Luv Freakin Smallies!!!