| | | |
| --- | --- | --- |
| | Today's adventures Photo Details | |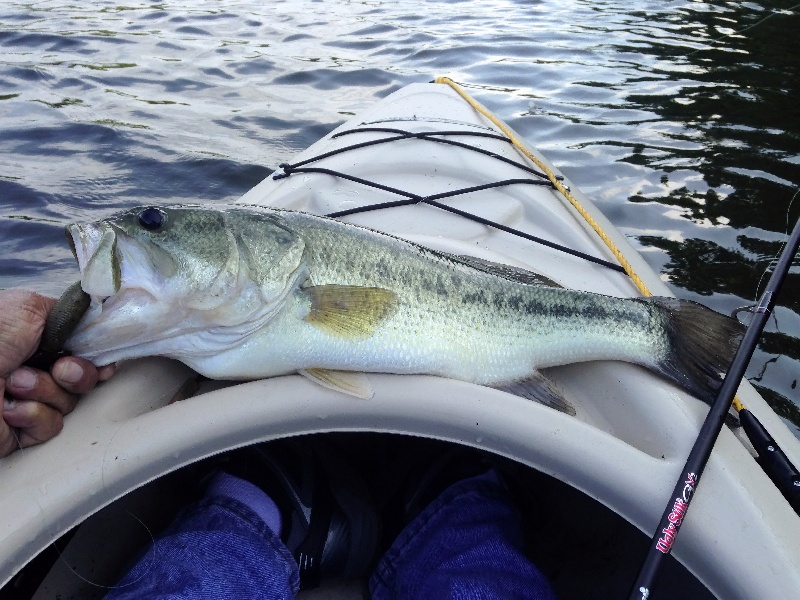 View High Resolution Photo

Added by: andyd
05/31/15 11:52 AM
Today's adventures
Man!!! It just keeps getting better and better. Got up early this morning and was on the lake by 6:30am. Within minutes I was catching small bass. I paddled up lake to where I caught the two from yesterday and dropped my chain anchor. I fished the cover on the bank for about 30 minutes and then started near the edge of the lily pads. First cast and B A N G !!! I hooked the one in the pictures. What a fighter this was. When it finally ran out of steam I got it on board the yak and measured it...... 23 and a quarter inches. Not having a scale I consulted my size/weight charts and this bass weighed almost 7 and three quarter pounds. I took the picture of the one on the deck of my yak and another fisherman near me took the one looking back at the yak.


Avg. Rating: 5

# of Ratings: 2



Must be logged in to rate or add comments.

User
Comment
southjerseyangler
05/31/15 09:43 PM
Awesome fish andy!
andyd
05/31/15 01:04 PM
Thanks Jimbouy...on my way out now to pick up a digital fish scale of some sort. Heading on over to Sportsman's Outpost. Gettin tire of guessing the weight :-)
jimbuoy
05/31/15 12:24 PM
Awesome catch!