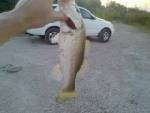 Added by: kevjames04
10/03/08 10:24 PM
Test1
Basically we tight lined a carolina rig with medium large hooks. I cat a 10 inch bass on a spinner, a 16 inch carp on a worm, and some sunfish on worms with bobbers.


No ratings yet.



Must be logged in to rate or add comments.