| | | |
| --- | --- | --- |
| | One Ugly Mother Photo Details | |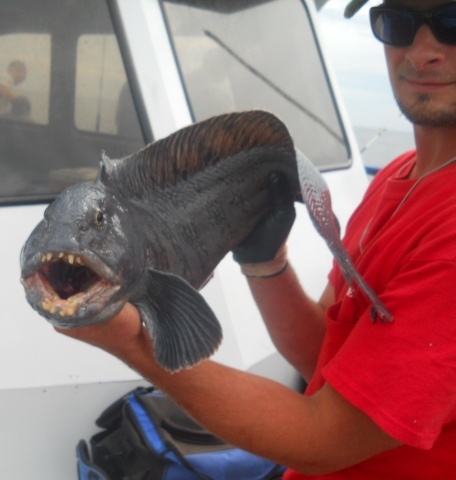 Added by: nefisherman92
07/29/12 05:37 PM
One Ugly Mother
This is one of the mates holding the larger of the two Wolffish I caught. Handling these monsters can be tricky these days as that menacing set of teeth is more than capable of liberating you from several of your fingers. The old method (for a keeper) was to bring it up on deck and promptly beat the s%@t out it with a club or bat. Now however, they must all be released alive due to their endagered status, so thee hook needs to carefully removed with a set of pliers, while keping your hands and feet clear of it's mouth.


No ratings yet.



Must be logged in to rate or add comments.

User
Comment
bigdarrin
07/30/12 10:17 AM
Yeh he is ugly.
pocketfisherman
07/29/12 06:49 PM
I've seen some HUUUGE wolffish over the years while deepsea fishing! Those things are nasty, but way cool and mean looking!