| | | |
| --- | --- | --- |
| | Sunfish Caught by Dave Overstrom | |

Below are details for all the Sunfish caught by Dave Overstrom. This view provides a great way to see where and how Dave Overstrom caught Sunfish.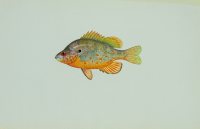 Sort by: Max Fish Length | Max Fish Weight | Trip Name | # of Fish Caught


---
From Trip:
Gardner Lake Sunday Trip
Trip Date:
4/20/2008
Hotspot Title:
Nice little spot to throw a worm and bobber out
# of Fish Caught:
5
Fish Length (Average):
5 inches
Fish Length (Max):
8 inches
Fish Weight (Average):
0 lbs. 0 oz.
Fish Weight (Max):
0 lbs. 0 oz.
Bait Type:
Nightcrawler
Bait Details:
Used the classic worm and a bobber...werent expecting to catch anything big, and we didnt, but still a fun time.
Location Details:
There is a small parking lot off cottage road where you can take a path down to the lake. There is a small side path that you can use to get to the area where we fished off the rocks. Not the best location in the world, but the fish were biting midday, so we were happy.
Longitude/Latitude:
-72.2209131717682, 41.5159684855779
Map It:



---
The details for this fishing hotspot are from a trip that is set to "Private" or "Only Friends", so unfortunately you are unable to view.

---
From Trip:
Lake Shenandoah JMU Day Trip
Trip Date:
9/24/2003
Hotspot Title:
Fishing near red barn/rock bed
# of Fish Caught:
4
Fish Length (Average):
4 inches
Fish Length (Max):
5 inches
Fish Weight (Average):
0 lbs. 8 oz.
Fish Weight (Max):
0 lbs. 8 oz.
Bait Type:
Spinnerbait / Buzzbait
Bait Details:
Fished here with just some rooster tails...lazy day...been here several times and never seemed to catch anything that large
Location Details:
Across the lake there is a large red barn and some rocks along the shore. Can either walk around and fish (make sure to stay off private property), or take a canoe over
Longitude/Latitude:
-78.83797112701421, 38.380561747360204
Map It:



---
| | | |
| --- | --- | --- |
| | | |