| | | |
| --- | --- | --- |
| | Glastonbury Anglers | |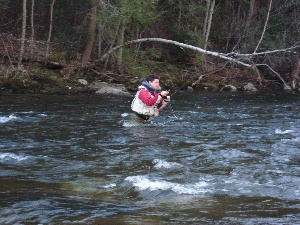 Group Info:

Name: Glastonbury Anglers

Description:

Based out of Glastonbury, CT we are a group of dedicated, yet not very skilled, anglers looking to share fly fishing tactics and knowledge. Our favorite rivers include the mighty Farmington and Salmon Rivers.

Announcements:

Salmon River Opening Day Stats:

Fred: 15 Rainbows
Dave: 8 Rainbows
Furst: 2 Rainbows
Jaywho: 1 Rainbow

Fred fly fishing waist deep at the Salmon last year is our current icon. Add your photos in the discussion area below to earn the Glastonbury Anglers icon privledge.
---
Members:
---
Discussion:
You must be a member in order to add messages to this discussion.

This group type is set to Private, so you cannot view the discussion until you Request to Join Group and become accepted as a member. If you recieved in group invite, you should automatically be added to group on request.

| | | |
| --- | --- | --- |
| | | |
| | | |
| --- | --- | --- |
| | Misc Info | |