Keyword Search:
Search Results:


Below are any photos with the keyword(s) yamasenko in their name, caption, or tags from Any State

1 photo found.
---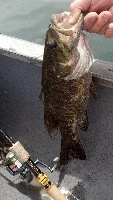 Smallmouth in Stoneham
Great-fighting June smallmouth from Spot Pond in Stoneham, MA. Wasn't expecting a smallie. Rented a canoe with girlfriend (no personal watercraft on pond), caught on a silver 4" Yamasenko fast twitched on surface near a small island.
Added by massdoubletap


Avg. Rating: 5

# of Ratings: 1

08/04/14 01:45 PM
There are 1 photo in this collection.
There are a total of 20 users online.



Guests: 20
Members: 0


We have 792 registered NY Fish Finder users.
Who's online?

There are a total of 21810 registered users in all the Fish Finder communities. View details...


The newest registered user is williamfet